Anti-Oxidant Trail Mix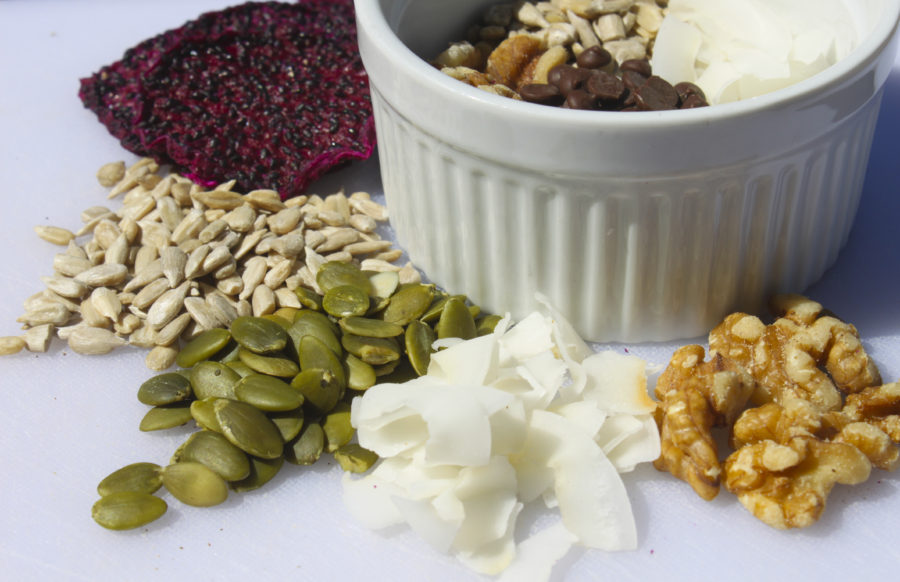 Author:
The Glisten Girls
½ ounce walnuts (about 7-8 walnut halves)
1 tbsp raw sunflower seeds
1 tbsp raw pumpkin seeds
1 tbsp raw coconut shreds (sometimes called chips)
¼ ounce dried dragon fruit/pitaya (1 piece)
1 tsp Enjoy Life Mini Chocolate Chips (optional)
Measure all ingredients and put into a snack sized ziplock bag. This is one serving.
To make 14 baggies or two weeks worth, purchase 3.5 ounces of sunflower seeds, 5.25 ounces of pumpkin seeds, 7 ounces of walnuts, 1 bag of Enjoy Life Mini Chocolate Chips (you'll use ¼ of the bag), 2 ounces of coconut shreds/chips or 1-8.8 ounce bag (you will use about ¼ of it), and 2 packages of dried pitaya. You may substitute another dried fruit such as tart cherries, craisins, raisins, figs, or dates, etc.
Serving size:
1
Calories:
270
Fat:
21 g
Carbohydrates:
16 g
Sugar:
8 g
Sodium:
1 mg
Fiber:
7 g
Protein:
7 g
Cholesterol:
0 g